World's Most Important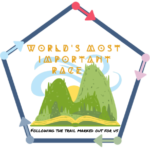 Race
Following the trail marked out for us.
Join us July 18th – 25th as we learn more about The Race of Faith.
Our VBS theme this year is an adventure race with challenges along the way. Racers will be encouraged each day by other racers on the course sharing how this adventure race reminds them of truths we are all learning in the Race of Faith.
This a VIRTUAL VBS Program: a
ll components will be made available during the week and remain up for Summer 2021.
Please take note of 2 IN PERSON Events:
Picnic and Praise Kick Off on Sunday July 18th @10:00 AM
End of Race Picnic and Praise on Sunday July 25th @ 10:00 AM
WHAT IS THE RACE OF FAITH?
It is the race that the entire world is invited to by God, who provided a "training map" for it, called the Bible.
It is a race with all kinds of obstacles which God will help us to overcome if we follow His path.
In your racer journal learn more about these 3 points:
1. To be in a race you need to understand the rules: You need to LEARN about God and Yourself.
2. To enter in the race, you need to take the first step: ADMIT that you are a sinner, and that God is right.
3. To win the race you need to run with perseverance: BELIEVE in Jesus and follow Him to the finish.
We are all invited to be a part of this race and even if you have started you are still running!
Use this time to grow in your own faith and share special truths with your racers.
Faith is…TRUST, ACTION, PERSEVERANCE, CONFIDENCE, EXPECTATION…and so much more!
Join us each day through our website or mobile app to learn more about The Race of Faith.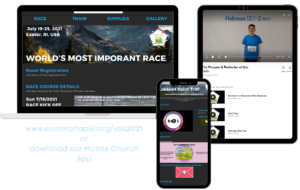 Each day a new part of the course will be made available.
Click on that day to learn more about:
– The trail we are on
– The daily challenges
– The Bible Truth to help us through the day
– and so much more!
What are the Daily Challenges?
These are opportunities for your racer and family to be a part of The World's Most Important Race.
There are 3 challenges for each of the 5 trails on our course.
Use these times to have conversation, prayer, family fun and more.
The 3 challenges are:
race theme/bible lesson themed challenges to tie in with the Bible truth and lesson.
2. Memory Verse Challenges:
creative ways to learn the memory verse for each day.
3. Faith Survey Mark Hikes: 5 different local hikes in RI.
Each of these hikes has clues to help you find a hidden box. Inside the box your racer will find bookmarks with the memory verse and a sticker.
Collect all 5 Survey Mark Stickers and put the secrete code into Google Maps to find our last hidden box with a special prize!
Hike locations include: Rome Point, Frenchtown Park Trail, Browning Mill Loop, Rocky Point Trail, Mount Tom Trail
After your racer completes each challenge they can add a sticker to their race journal. The stickers are included, all you need to do is help them cut them out.
Ready to start! Click here to head to the course!