Day 3:
Blazing Bluff
Hold fast to God in all circumstances.
But now, this is what the LORD says, He who is your creator, Jacob, and He who formed you, Israel:
"Do not fear, for I have redeemed you; I have called you by name; you are Mine! When you pass through the waters, I will be with you; and through the rivers, they will not overflow you. When you walk through the fire, you will not be scorched, nor will the flame burn you. For I am the LORD your God, the Holy One of Israel, your Savior."
Trail Conditions:
– hot shifting sands
Temperature:
Challenge Cards
Can be done at any point of the day
Click to open the envelope for today's challenges.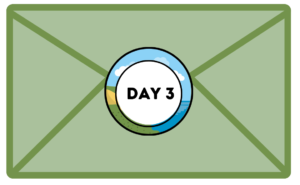 – Review Daniel 3:1-6, 13-28
– Has there been a time where you had to choose to not do what others around you are doing?
– Write out some ways you can be obedient to God?
Racer Margo

When did you start the race of faith?
I started the race of faith when I was 18 years old.
How did your race of faith start?
I had been attending a Bible study at college where someone explained to me Jesus' words from John chap
ter 3. I had always believed that Jesus died and rose again for the world, but then I realized that it was for me, and that I needed to ask Him to forgive me and be my Savior.
What is a special Bible truth that helps you in the race?
A truth from God's Word that helps me in the race is knowing that God is in control. He knows everything that I am going through and is always there to help me.
What is your Favorite Bible verse?
One of my favorite Bible verses is Romans 8:38-39 "For I am sure that neither death nor life, nor angels nor rulers, nor things present nor things to come, nor powers,
nor height nor depth, nor anything else in all creation, will be able to separate us from the love of God in Christ Jesus our Lord."
RACE
TRAIN
SUPPLIES
Gallery