Day 5:
Faithful Falls
God gives us the tools to stand firm in faith.
What you heard from me, keep as the pattern of sound teaching, with faith and love in Christ Jesus. Guard the good deposit that was entrusted to you – guard it with the help of the Holy Spirit who lives in us.
Trail Conditions:
– long way down!
– rocky with hand holds along the way!
Temperature:
Challenge Cards
Can be done at any point of the day
Click to open the envelope for today's challenges.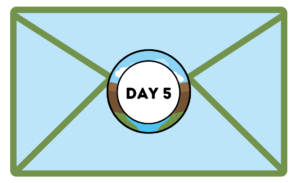 – Review 1 Timothy 1:13- 19; 2: 1-4 and 2 Timothy 1:13-16
-How are you doing with reading the Bible?
– What is a story or verse that you find helpful in your own Race of Faith?
– Do you have someone like Paul who encourages you in your race of faith?
Racer Melissa

When did you start the race of faith?
I started when I was 3.
How did your race of faith start?
My grandfather led me to Christ. Afterwards my parents followed up his conversation with me, making sure I truly understood salvation. Through the years, God has used various situations and experiences to keep prodding me along and to keep teaching me about Himself
What is a special Bible truth that helps you in the race?
Believe it or not, lately I have been appreciating Christ's endurance. I am thankful that He kept persevering and obeying His Father in the worst of circumstances, all the way to His death on the cross. He understands our struggles against sin and will help us by His Spirit
What is your Favorite Bible verse?
These verses are helpful to me:
"Do not present your members to sin as instruments for unrighteousness, but present yourselves to God as those who have been brought from death to life, and your members to God as instruments for righteousness." Romans 6:13.
RACE
TRAIN
SUPPLIES
Gallery